About MEAN WELL

Founded in 1982, MEAN WELL is the leading brand of standard power supply in the world. Ranking the 3rd in global DC output power supply (2018 MTC report), and the 2nd in the LED driver (2017 IHS report) in the world, MEAN WELL is a well-known manufacturer dedicated to standard power supply products sold with own brand name. With 3,000 employees located at its global headquarters in New Taipei Industrial Park, Taiwan, branches and sales offices at Guangzhou, Shenzhen, Suzhou in China, California USA, and Netherlands in the EU, four advanced production bases in New Taipei City (Taiwan) and Tianhe District and Huadu District in Guangzhou, Suzhou City in China, it generates a combined revenue of USD 927 million (TWD 27.8 billion) in 2017.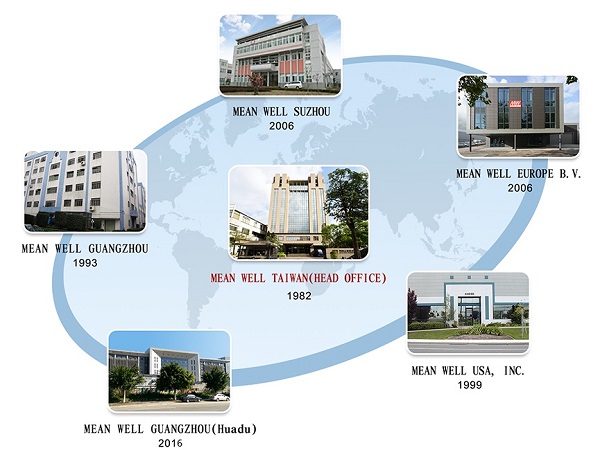 Medical Power Supply introduction

MEAN WELL entered the medical power supply market in the year 2000, and according to the 2016 IHS Market report, MEAN WELL currently ranks number 8 in medical power supplies sales worldwide. MEAN WELL has a comprehensive medical power supply portfolio and has obtained the ISO13485 medical grade factory quality management system certification. The medical product lines offer different enclosure styles and installation methods and can be divided into AC-DC external power adaptors, built-in enclosed type, modular power, PCB type, and DC-DC modules that covers 1W~1200W output power, consisting of more than 80 product series and 500 different models for customers to choose. In addition, the medical power supplies of MEAN WELL is certified to the latest IEC60601-1 safety standards and possess 2xMOPP or MOOP isolation levels, providing the highest levels protections for both patients and operators. The whole product line all passes the international safety regulations – UL/CUL/TUV/CB/CE/FCC and electromagnetic compatibility (EMC) testing, thus further assure the safety for users and satisfy various application requirements for medical diagnostic, treatment, examination, experiment, home healthcare, rehabilitation assistance and more.

All standard products have sufficient inventory. Customers do not have to pay NRE and mold fees. Moreover, same day delivery for samples order and normal amount order for 14-day delivery service is provided. All products comply with global safety standards and EMC/EMI certifications. Customers neither have to wait for the endless verification time nor pay for expensive certification fees, which could shorten the launch schedule and enhance the market competency. In addition, with than 30 years power supplies experiences, MEAN WELL FAE team is ready to provide their professional and technical support. You are more than welcome to contact us!